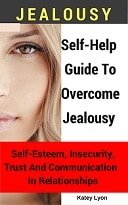 What is Jealousy?
According to the dictionary, Jealousy is resentment against a rival, a person enjoying success or advantage, etc., or against another's success or advantage itself.
What are the problems of Jealousy
Jealousy causes problems in your relationships.
When you experience jealousy you are likely to feel negative and painful emotions such as:
A sense of inadequacy or powerlessness or frustration
Resentment
Hurt
Anger
Lack of communication
Suspicion
Negativity
Lack of trust
Jealousy and Self Esteem
Usually, a sense of low worth and low self-esteem is an underlying factor for jealousy. On the other hand feeling jealousy can damage your self-esteem because you will feel shame and doubt about yourself.
Feelings of abandonment will arise because you will interpret your partner's behavior as reflecting a loss of interest in you or a growing interest in someone else: "She is more attractive" or "I am boring".
Some other possible underlying causes of jealousy are a lack of self-confidence, insecurity, and fear of rejection. Jealousy will ruin your life because you will become obsessive by spying, questioning, doubting about yourself.
A competent and self-confident person is incapable of jealousy in anything. Jealousy is invariably a symptom of neurotic insecurity.
Robert A. Heinlein
Destructive jealousy is something that you should avoid. This type of jealousy can make you feel jealous in an intense, irrational and frequent manner. If you want to live life with utmost satisfaction, then you have to look for ways to avoid this uncontrollable emotion.
Coping With Jealousy – A Practical Guide
This a Step-by-Step Guide to Controlling Your Jealous Feelings. The eBook Coping with Jealousy will help you with ideas and practical exercises for taking control of your jealous actions instead of letting them control you.
What will you learn?
4 Mayor Causes of Jealousy.
The most effective way to deal with it is to learn the causes of jealousy so you can act on it in the most appropriate manner possible.
It is necessary to know the different types of jealousy so that you will be aware of your emotions and learn to handle such feelings
Tips for Coping with Jealousy
And, 5 Practical Exercises to Overcome Jealousy
Discover How To Cope with Jealousy And Build Healthier Relationships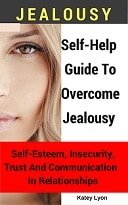 Imagine what it would be like if you discover:
What is healthy jealousy? The type that is not considered to be harmful.
What is destructive jealousy and this is something that you should avoid?
How to understand jealousy and get some tips and advice on how to overcome this issue.
Jealousy causes a lot of stress and negative energy in every kind of relationship. If you're having a problem with jealousy in your life, you're affecting and destroying the relationships with the people you love the most. Start now to control and overcome your jealousy and enjoy your life.
Read it on your favorite device!
You can read the ebook in a variety of e-reading devices
Choose any of the devices such as Blackberry, Kindle, Nook, PCs, Macs, iPhones, and all tablet computers including the iPad, Kindle Fire, and Nook Tablet.Do you need Amazon Kindle? Click the banner below to find out more information